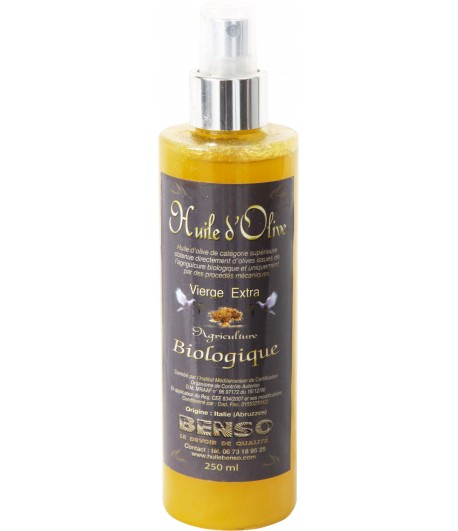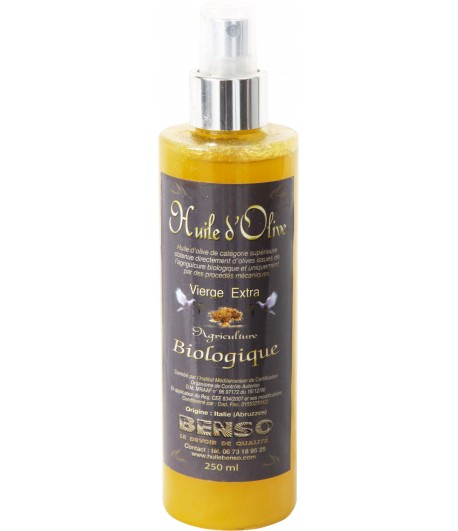  
Extra Virgin Organic Olive Oil Spray - 250ml
Reference:
No tax
Delivery : 3 to 4 days
Practice, the BENSO virgin olive oil spray extra virgin helps to better dose the amount of oil used, spread evenly over your dishes, salads or stove. The fine misting of the spray allows a control and a saving of olive oil.

Benso Organic Olive Oil is a high quality, first cold-pressed olive oil that is obtained only by mechanical means.

Benso organic olive oil comes from Leccino olive, a variety of Tuscan olives that give it a taste of fresh grass and hazelnut.
The olive, like the wine is a product sensitive to the climate. Each year, olive oil develops different flavors.
Benso Organic olive oil this year releases aromas of slice of green tomatoes, raw artichoke and, at the end of tasting, almond all with very little bitterness.
Benso organic olive oil and Pistou, Pesto Rosso and other products are used by many catering professionals. Among them :
3 other products in the same category: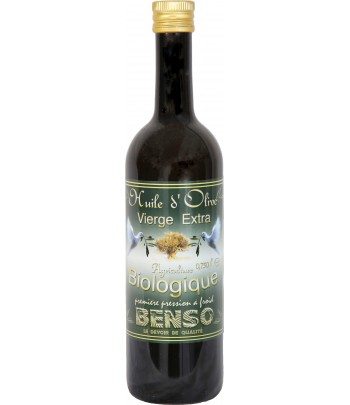 Huile d'olive de qualité supérieure, de première pression à froid, obtenue uniquement par des procédés mécaniques.