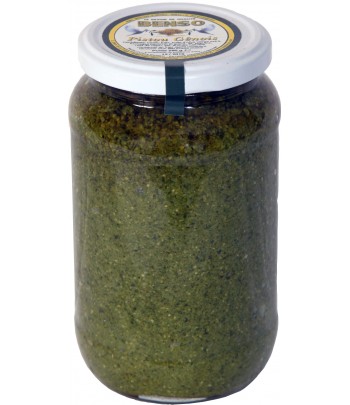 "Benso Pistou Génois" is prepared from freshly picked basil. The basil is pounded in mortar with garlic, pine nuts, cashews. The two cheeses are then added to the crushed basil: pecorino (sheep) and grana (cow). Once the mixture is homogenized, it is slowly added to the extra virgin olive oil.

Once open your pot "Pistou Génois Benso" will keep cool with a drizzle of olive oil.

The Genoese Pistou is widely used in Italian cuisine and accompanies mainly pasta. Our Genoese Pistou can also be used to make a sauce such as a mozzarella tomato.

The Genoese Pistou as its name suggests finds its origin in the city of Genoa in the 19th century.