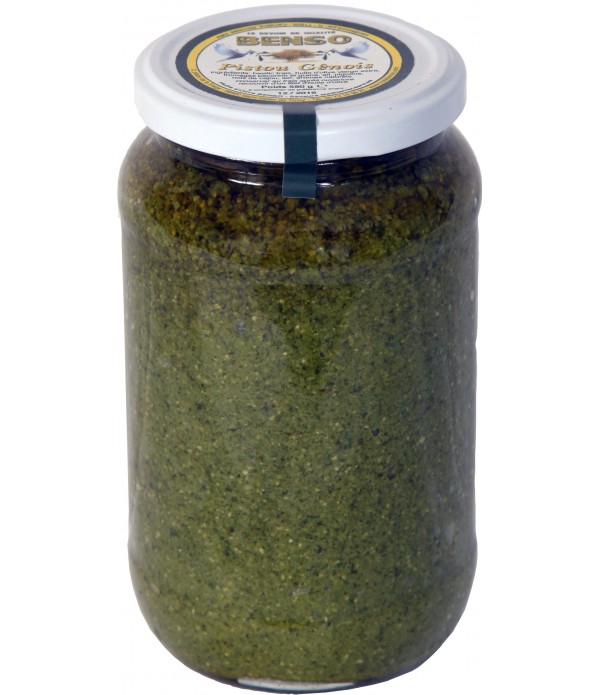  
Pesto Genovese - 580g
Tax included
Delivery : 3 to 4 days
"Benso Pistou Génois" is prepared from freshly picked basil. The basil is pounded in mortar with garlic, pine nuts, cashews. The two cheeses are then added to the crushed basil: pecorino (sheep) and grana (cow). Once the mixture is homogenized, it is slowly added to the extra virgin olive oil.

Once open your pot "Pistou Génois Benso" will keep cool with a drizzle of olive oil.

The Genoese Pistou is widely used in Italian cuisine and accompanies mainly pasta. Our Genoese Pistou can also be used to make a sauce such as a mozzarella tomato.

The Genoese Pistou as its name suggests finds its origin in the city of Genoa in the 19th century.

Organic certification controlled by ICEA

Delivery from € 6.90 in Relais Colis

A question ? 0673189525
Our genoese pistou will accompany:

    pasta: after draining the pasta, put it back in the pan, add the pesto, a drizzle of olive oil and serve.
    In a salad base: put in a bowl of olive oil and a tablespoon of pistou and balsamic vinegar if desired to dress on your salads.
        The tomatoes mozza: slice your tomatoes and your mozzarella (di buffala preferably!), Add the sauce with pistou, arrange them on the plate.
        Mushrooms: slice mushrooms on a green salad.
    meat and fish,
    Baked vegetables (champions, tomatoes, ...): remove the mushrooms from the feet of the mushrooms fill them with pesto and then put them in the oven or barbecue; ditto with halves of tomatoes.
    fresh goat cheese


Recipe for zucchini tatin pie

    Fry 4 diced zucchini in Benso olive oil
    Put a parchment paper in a pie dish, the spread of pistou slightly diluted in olive oil.
    Cover with chopped fresh goat cheese.
    Spread the zucchini.
    Cover with a short pastry and bake for 20 minutes.
    Serve with a salad.